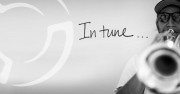 The revolution is live. Together, this is our time.
Kansas City, MO, January 24, 2016 (Newswire.com) - System Blue brings the world of design and innovation together like never before with the launch of System Blue Brass. The first products developed by the brand are the Professional and Traditional Brass instruments that will connect you to the ultimate playing and performance experience.
System Blue, in collaboration with designer John Meehan, arranger/brass caption head for The Blue Devils, will unveil System Blue Brass at NAMM. Attended by thousands of musicians, dealers, educators, and manufacturers, NAMM (National Association of Music Merchants) is one of the two largest music product trade shows in the world.
"I have been working with System Blue to take brass instrument design to a new level," said System Blue Brass designer John Meehan, "The result is having the instrument you have always dreamed of; with detailed aspects geared towards pitch, balance, tone, handling, durability, and competitive pricing."

John Meehan, System Blue Brass Designer
"System Blue and John Meehan share a passion for creating the best marching brass products offering cutting edge design and innovation," System Blue President, David Gibbs said. "John has been an incredible asset to our team and these brass designs will elevate the way artists play and perform. The new line of brass instruments create an outstanding playing experience, above and beyond anything else out there."
The superior design of System Blue's Professional Marching Brass Series has its origins in decades of experience and draws upon the success of the marching arena's top ensembles. Created for the advanced player and those aspiring to be, the brand is acutely aware of the demands and challenges required for excellence. It was simply time to create a series of brass instruments with thoughtfulness given toward overall choir blend - instruments with a unique and distinctive style. In the professional series, System Blue brings you two professional trumpets, professional mellophone, professional baritone, professional trombone, professional euphonium hybrid, a professional tuba, and a professional sousaphone.
System Blue's Traditional Marching Brass Series is a must for all entry and mid-level performing groups. The traditional series includes two trumpets, mellophone, baritone, student model trombone, euphonium, 3 and 4 valve over-the-shoulder tubas, and a new 4-valve sousaphone.
The design of these instruments, by John Meehan in collaboration with Kevin Ronan, has exceeded all that has come before. On the tuning slide of each System Blue brass instrument there are engraved marks. By implementing the Graduated Tuning Guide System into any brass ensemble, the director has the ability to instantly adjust his or her marching brass section whenever the temperature changes. Players can record specific temperatures and "marks" to accurately set tuning, making it quick and simple to adapt to any climate change. This system provides an invaluable tool and gives ensembles a unique starting point to play in tune at all times, regardless of time, temperature or climate. System Blue includes a tuning guide with detailed instructions in shipping with every horn.
System Blue ignited the marching world revolution and reinvented how people play and perform. Today, System Blue continues to lead the marching industry in innovation and success, spearheading an 'instrumental' uprising.
Welcome to the Revolution.
Join us at booth 2520 to see the System Blue brass products and meet John Meehan and the designers.
System Blue is distributed through BAC Musical Instruments, Kansas City, MO.
@systemblue1
Share: