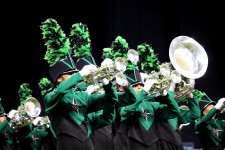 The Oregon Crusaders Drum & Bugle Corps from Portland, OR will play System Blue Professional Brass instruments in 2016.
Portland, OR, April 19, 2016 (Newswire.com) - ​​​The Oregon Crusaders will join the System Blue Family in 2016. The World Class corps from Portland, Oregon, who placed 17th overall in the 2015 season, announced they would proudly be playing System Blue Brass instruments for the upcoming 2016 season.
The Oregon Crusaders hold a deep-seated philosophy of Education Through Performance. Their purpose is to provide world class education through performance in the areas of percussion, brass, dance and visual ensemble artistry.
We are beyond excited to have The Oregon Crusaders on board with System Blue. Their overall stride for excellence as well as their focus on education in the marching arts makes them a perfect fit for the System Blue Family. We can't wait to take this journey with them

Dave Gibbs, CEO - System Blue
OC has consistently achieved artistic and performance excellence, and is recognized as an exceptional and excellence-driven group. With the inclusion of a leadership curriculum drawing upon top training methodologies used in corporate America, the organization provides educational, cultural, interpersonal, physical and emotional growth necessary for our young people to become leaders.
Bradley Kerr Green, Brass Arranger & Brass Caption Supervisor, Oregon Crusaders remarked -
"I am very excited that the Oregon Crusaders will be performing on the new System Blue Marching Brass Line! After having motivating discussions with Mike Quillen & John Meehan, I traveled to TMEA this past February and met with Allan Murray, Wayne Downey, Kevin Ronan, and the rest of the System Blue team on site. Assisted by a couple of very talented colleagues, we spent a large amount of time trying out various instruments throughout the System Blue Marching Brass line - both the Professional Brass and the Traditional Brass lines. We were met with professionalism, patience, and guidance throughout the entire experience - including helpful pedagogical tips from Wayne Downey himself. The high-level knowledge and pride over the quality of design of the instruments - both with quality of sound & functionality/durability - was evident and appreciated. By the end of the experience, my colleagues and I felt confident that we had compiled a 'wish list' of instruments that would best set the Oregon Crusaders brass line up to deliver power, finesse, beauty, & artistry to their audiences. Thank you to the System Blue team and to the Oregon Crusaders Board of Directors for making this wish come true."
Mike Quillen Executive Director of Oregon Crusaders said this about System Blue -
"The Oregon Crusaders organization is very excited to become part of the System Blue family. The brand is synonymous with quality and excellence. Their investment in creating a company that is focused on providing great value through its products and services for the marching arts means great things for the our community and the art that we create."
"Having known many of the people associated with System Blue for many years, I'm very confident in the products and the support that they will deliver. They are great people who care deeply about the activity and the relationships that we all share."
"We are thrilled to be the first DCI corps to play on the new System Blue brass instruments in 2016. Our members are excited and can't wait to get their hands and chops on them!"
The partnership between Oregon Crusaders and System Blue will be a journey both parties look forward to.
Together, it's our time.
Source: System Blue
Share: